- Article -
MyCarrier Relieves Burden of Limited Capacity on LTL Shippers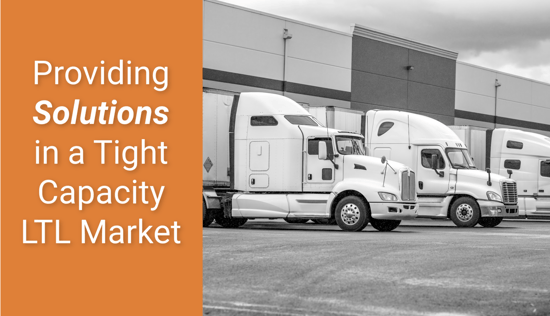 If you've followed recent articles around the extremely high demand carriers are facing with when it comes to shipping LTL freight, then you may be wondering how the current capacity shortage will affect you. It's likely that with the current high-demand, tight capacity conditions, you've already experienced disruptions of some kind. With a higher-than-average trucking demand and a labor shortage among dockworkers and drivers, the situation looks like it may continue for quite some time.
As America gets back to its new normal, demand is felt everywhere, in almost every industry. Transportation labor shortages combined with higher customer demand means technology advancements, like those offered by MyCarrier, are a must. MyCarrier combines all your carriers in one, easy-to-use, online freight management platform, giving you multiple carrier options when selecting a destination. With numerous LTL carriers to choose from, you don't have to worry about being left behind in the current capacity-constrained market.
For shippers that send more than 5 shipments a day, MyCarrier offers Advanced Learning Technology via Quick Ship, a new data rich feature that enables you to map your high volume customers into the platform via an import step, allowing you to process multiple orders at once. This time-saving technique combined with the auto population function streamlines shippers to templatize customer orders. This greatly reduces time from dock to delivery. Our data experts have spent months working on this feature, giving you the optimal routes, pricing, and tracking technology needed. The new Quick Ship feature is backed by data expertise that's nearly impossible to find anywhere else. More information on this new feature will be coming soon.
As more carriers are expected to turn away less profitable freight, MyCarrier offers an efficient solution to current market challenges. On top of providing a direct connection with multiple carriers and creating a much quicker shipping process, the platform offers an easy way to quote, book, track, and analyze your shipments.
If you're struggling to find space for your freight in this limited capacity market, MyCarrier is happy to help. Feel free to schedule a demo below.