- Article -
What You Really Need to Know About Cargo Insurance
What is Cargo Insurance?
Cargo (full value) insurance is a crucial component to the shipment of goods. Unpredictable events such as loss, damage and delay of freight can hurt both the reputation and bottom line of shippers. Because of this, most shippers choose to cover their valuable goods via full value cargo insurance, for both the peace-of-mind it brings and the financial security it offers.
Cargo insurance protects the owner of the goods for the full value of their investment against all risks and can include not only the full value of the goods, but also the cost of duties, shipping, and can even cover an additional 10% to 20% extra to cover anticipated profit . With full value coverage based on proof-of-damage instead of proof-of-liability, shippers are in first-party position, so the claim does not depend on the carrier's limited liability coverage.
How Does Cargo Insurance Differ from Freight Insurance?
Freight Insurance (also known as carrier liability) frequently varies from one carrier to the next, and is based on packaging, freight class, commodity type and other specific conditions. Under the Carmack Amendment, carriers have a legal financial responsibility to their customers when goods are damaged or lost, but only in particular circumstances, and only up to a certain amount.
For Less-than-Truckload (LTL) shipments, limited liability coverage imparted through the carrier usually has the following limits: A payout ranging from only $0.10 to $25.00 per pound (with a customary payout of $0.50 per pound). On top of this, the carrier is financially responsible for loss or damage ONLY when it's proven to be attributable to carrier negligence. In fact, more than half of carrier liability claims are denied completely. Because of this, damage or loss due to many unforeseen events may not be covered at all, leaving the shipper with a potentially serious financial loss.
On top of many other restrictions, the carrier's limited liability only covers goods when they are in the care of the carrier. Whereas with full value cargo insurance, the goods are covered door-to-door, meaning that they are fully covered until safe delivery, even after leaving the carrier's custody. It's not uncommon for LTL shipments to have multiple stops, especially in long hauls, increasing the possibility for freight damage.
See the image below for a quick look at the differences between freight insurance (carrier's limited liability) and full value cargo insurance: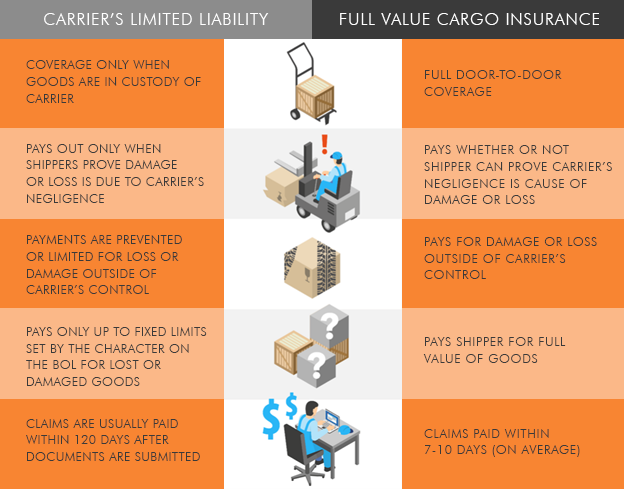 What are the Most Common Types of Claims?
Damage: This is when freight is received with visible damage and is one of the most common forms of claims. Examples of this include water damage, contamination, and infestation.

Loss: This type of claim occurs when goods are lost in transit; meaning that the cargo was picked up but never delivered.

Concealed: When loss or damage is revealed after delivery and reported to the carrier after the driver already leaves, it's considered concealed.

Shortage: When the recipient only receives a portion of the freight expected, a shortage occurs. This often happen when the product falls out or pieces go missing.

Refused: Sometimes a shipment is delivered and the product is damaged, is the incorrect freight, or the shipment is late. If your consignee refuses the shipment, it's returned to the carrier's delivery terminal.
Even though carriers take great measures to prevent damage, many shippers are alarmed by the number of times the above events occur. Even experiencing one such incident can cause a huge financial hit, resulting in the loss of thousands (or even hundreds of thousands) of dollars.
LTL shippers and carriers not only use freight class to determine standard shipping rates for specific kinds of cargo, but also to determine both the carrier liability and cargo insurance coverage. To analyze a product's transportability, freight class evaluates these four specifications:
Liability: This refers to the probability of the freight being damaged or stolen. It also considers whether the freight may damage cargo that is stowed nearby. Here's the questions to ask: Is the freight flammable, perishable, or combustible? The greater the liability, the higher the associated costs.
Stowability: This is determined by how challenging it is to store the freight. For instance, some government guidelines may ban certain freight, such as hazardous materials, from being stored next to other products. Along the same lines, cargo that is exceptionally bulky or heavy may not fit very well with other freight. If the cargo requires specific storage instructions, it may be more expensive to ship.
Ease of Handling: If the freight requires special care when loading or unloading, shipping may cost more. While machines can easily transport freight, it may require higher fees if the cargo is particularly heavy, dangerous, or breakable.
Density: This metric regards the amount of space the cargo fills relative to its weight. The freight classes vary from products weighing less than one pound to more than 50 pounds per cubic foot.
The specifics above determine which class the freight belongs to. With 18 classifications, ranging from the lowest (class 50), to the highest (class 500), it is important to do your research to determine the exact class of a product. The lower the density, the higher the class. For example, ping pong balls would fall in the highest class (500) while something much denser, like steel rods, would fall in the lowest class (50). See a full freight classes list for more detailed information. Becoming familiar with the classes will give you a better indication of the coverage each shipment will require.
How do I file a Cargo Insurance Claim?
Because loss and damage are a regular occurrence, shippers will likely have to file a cargo insurance claim at some point. Here are recommended steps provided by Falvey Shipper's Insurance:
Report the loss or damage ASAP to the carrier. This first step is usually required within the following time frames: Within 90 days of the date of arrival (When damage is noted on the delivery receipt or bill-of-lading and signed by the driver) OR within 15 days of arrival (for Concealed Damage – situations when there is no discernable damage upon delivery, therefore not noted on bill-of-lading or delivery receipt).
1) Gather supporting documents. You will need:
A copy of the carrier's tracking report

Original bill of lading

Signed delivery receipt

A copy of the invoice and/or sales receipt

Photos of damaged goods and packaging

An itemized repair estimate if applicable
2) Visit the carrier's website and follow instructions to file a claim. Carriers often have specific instructions that help shippers navigate the claims process. Take a minute to browse their website for more information to expedite the process if damage occurs.
3) File a claim with your insurance provider. Simply click the link found on the front page of your certificate of insurance to file your claim electronically. You will provide the shipment date and BOL number from your certificate. Often, a certificate of insurance is provided in PDF format. Make sure to keep track of this document in case you need it later for proof of purchase.
4) Check your claim status online. Easily check your claim status by using the same link stated above, or by reaching out to your claim specialist directly.
How can I Reduce Risk and Increase the Chances of Filing Successful Claims?
The best-case scenario for any company is to never have to deal with a freight claim. Although shippers can't entirely remove the risk, there are some things businesses can do to cut down on the risk and increase the chances of receiving reimbursement when an unfortunate event happens.
1) Prepare Shipments Properly
In-transit damage is one of the most common disputes between carriers and shippers. It is your responsibility to ensure that your goods are well packed, and all the packaging guidelines of the carrier are carefully followed. If not, your cargo will be at an elevated risk of being damaged, and the carrier may have grounds to deny their liability. Fortunately, if you have cargo insurance coverage this is not a worry, but with freight insurance only, you may be subject to having your claim denied. Properly packing the shipment, removing any empty space is critical using materials that can help your goods absorb the shifting that occurs during transit.
2) Monitor the Shipment
Nearly all LTL freight carriers are able to inform of the shipment's progress via email or SMS text messages. Being aware of the shipment's status can alert you of delays that may point toward your shipment being at additional risk. Paying careful attention to shipments that aren't holding to the expected delivery schedule can be beneficial.
Notifications will also let you know when you need to be prepared to receive the shipment. Using a reliable digital shipping platform makes it easy to see where all of your shipments are at all times, in one convenient place.
3) Prepare for Proper Reception
The receiving dock provides the first opportunity to discover damage that occurred while in transit. It is essential that the person receiving the goods understands how to properly receive and LTL shipment. If the shipment is not received correctly, the LTL freight carrier may deny your claim completely. Make sure the receiver knows to:
Inspect the shipment properly and record any damages

Indicate if there are additional services used at the time of delivery

Keep track of the number of pieces being received

Legibly print and then sign his/ her name on the proof of delivery
Why Is Cargo Insurance Essential for LTL Shippers?
In LTL shipping, longer transit times, more stops, and increased handling put shipments at increased risk for loss or damage. With Full Truckload shipping (FTL), the driver picks up the product and drives straight to the receiver or consignee. On the other hand, the route is never straight through with LTL shipping, which means it will usually take longer than Full Truckload to arrive at a delivery destination. This means that delivery rates are estimates, rather than guarantees.
Another aspect of LTL shipping that may put cargo at greater risk is increased freight handling. shipments are loaded in and out of trailers multiple times before reaching a final destination. Though an overwhelming majority of LTL shipments are delivered in pristine condition, the increased handling means increased exposure to potential product damage.
Being that LTL goods share trailer space with other companies, there's no guarantee that the other shippers packed their cargo carefully. This sometimes leads to neighboring cargo being damaged from improperly packaged freight.
Utilizing cargo insurance is a great way to guarantee that any loss or damage of product is completely covered during the LTL shipping process.
Insights
MyCarrier partners with top-rated Falvey Shippers Insurance to make choosing the perfect policy easy and efficient. Platform users enjoy transparent, flexible coverage and hassle-free claims. In fact, claimants receive payment in just 7-10 days after receipt of supporting documents. This translates to happier customers, faster sales recovery, and minimized disruption to daily operations. With MyCarrier, shippers are able to step away from common carrier liability limits and experience cost-effective, full-value coverage for their LTL cargo.
Do you need more information about Full Value Cargo Insurance? Feel free to contact us with any questions or requests.