- Article -
3 Reasons to Expand from LTL to FTL Shipping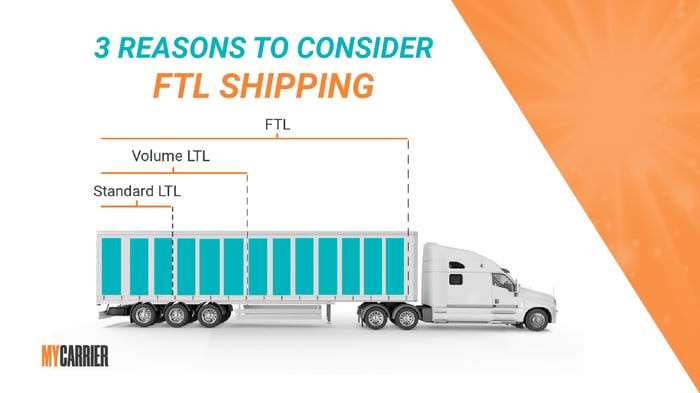 Shippers have a variety of options available to them based on several key factors, including the amount of freight they ship, what goods they ship, the size of their cargo, and their shipping locations. While Less Than Truckload (LTL) may be the ideal solution for some shippers, Full Truckload (FTL) may be the best option for others. With all the factors that go into choosing the right option, it's important to understand the key differences between both modes, and to recognize which is best for your business.
LTL is used when multiple shippers' freight is moving on the same trailer, rather than traveling exclusively on an individual trailer. LTL is ideal for shipments that are between one and six pallets, or effectively any shipment that is less than 12 linear feet, as it optimizes the available shipping space and saves the shipper money.
With FTL, on the other hand, your freight is the only freight moving on an individual truck. This makes sense for shippers who can fill, or nearly fill, the entire truckload. Securing the capacity of the entire truck means that you won't have to worry about your goods making several stops and being loaded and unloaded multiple times alongside other shippers' cargo.
Cost-effective for large shipments—providing savings over shipping several LTL shipments
Not subject to being surrounded by other shippers' freight, which may not be properly packaged
Shipment never leaves its vehicle from origin to destination, which can lead to fewer damages
Shipments arrive faster than LTL because of the direct route
Transportation spend is minimized by paying for only a portion of the truck space
Access to a national and regional carrier network that can lead to more competitive prices
Easy tracking and tracing due to advanced LTL tracking systems
More eco-friendly due to increased ability to optimize routes
As an LTL Shipper, When Should You Consider Moving to FTL?
Most shippers assume that it always makes financial sense to ship LTL if they can't consistently fill an entire truck, but this isn't always the case. FTL can be the smarter option for a few specific reasons, including the following:
1. You Have Multiple Large Orders Going to the Same Region
If you regularly send LTL loads to the same area, it may make sense to combine these shipments into one truck instead. You may discover that in combining shipments, they are large enough to require the entire use of a trailer's space, which ends up being more cost effective than booking multiple LTL shipments.
2. Your Goods are Extremely Fragile
Full truckload shipments are generally less susceptible to damages as they are handled less than LTL shipments. If you have freight that's easily breakable, even when utilizing proper packaging techniques, it may make sense to ship FTL to ensure your goods arrive intact.
Whether shipping LTL of FTL, integrated cargo insurance can provide coverage for the full value of the shipment, along with an easy claims filing process.
3. You Need Your Shipments to Arrive Very Quickly
Though LTL freight can travel quickly and efficiently, goods that are shipped via FTL generally arrive at their destination faster than goods that are shipped via LTL's hub-and-spoke model. Having only one shipment on a dedicated truck means there's no need for stopovers, sorting, additional handling, or warehousing. Though with both LTL and FTL, the average shipping time depends on the shipment origin, route, and the carrier used.
All Things Considered, Should You Use FTL or LTL? (graphic)
We recommend you using FTL or LTL depending on the following situations: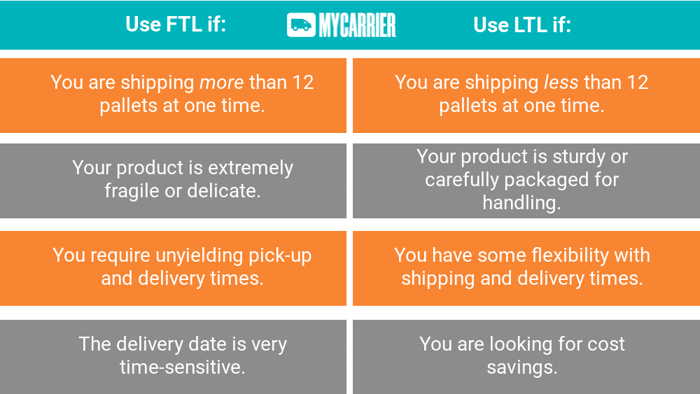 Insights
Whether LTL or FTL is right for your business, using our full-featured MyCarrierTMS Pro can ensure that you ship efficiently and cost-effectively. MyCarrierTMS eliminates the paperwork and time-consuming manual effort associated with shipping and provides ease of use, control, and visibility. Click here to learn more.