18 min read
What Does the LTL Shipping Process Look Like?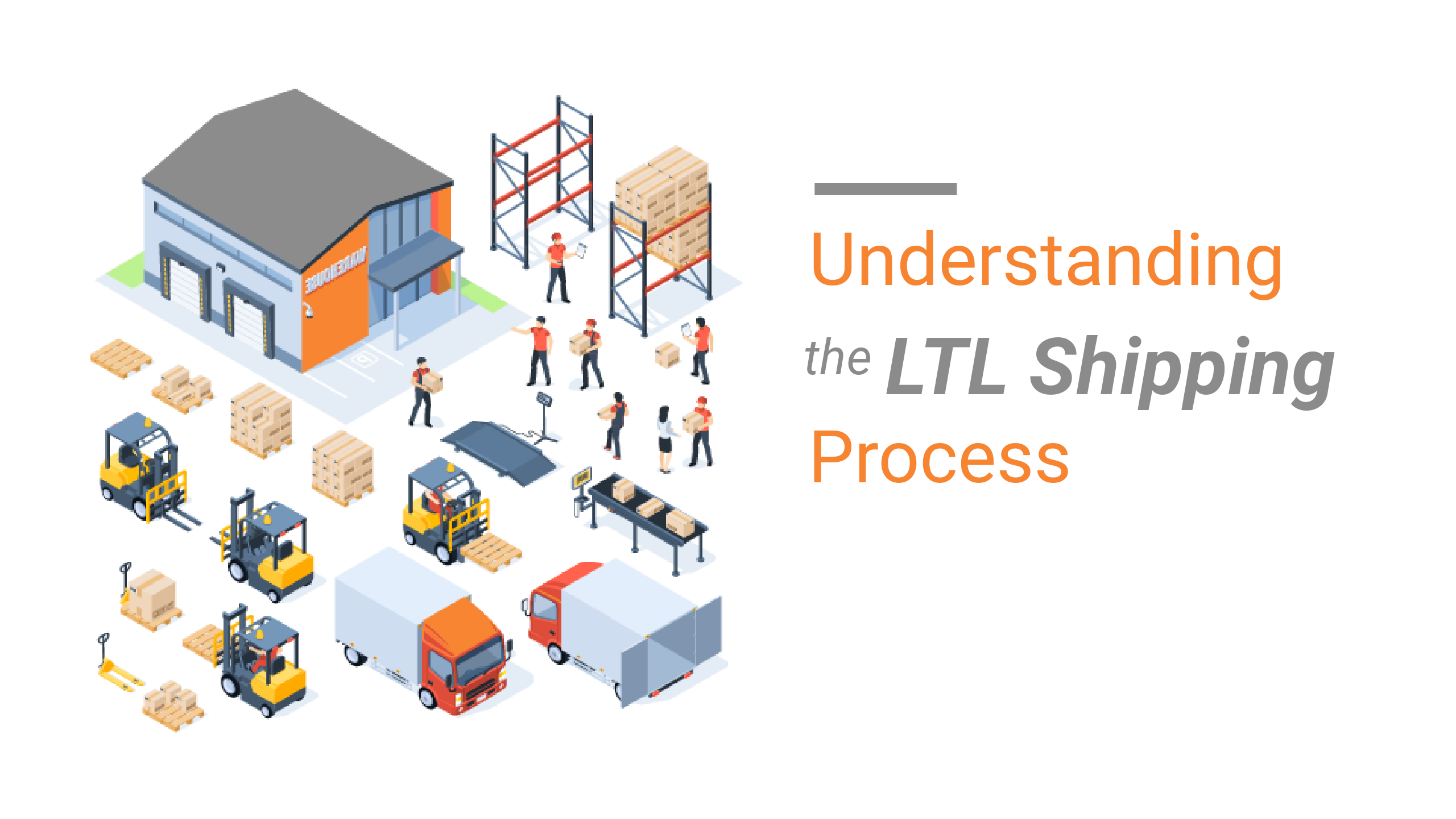 LTL Shipping is one of the most popular and cost-effective methods of shipping, especially for small to medium-sized businesses. However, the LTL shipping journey can seem complex for new shippers that are unfamiliar with the process. Because of this, we've put together a step-by-step guide that breaks down the LTL freight journey, from beginning to end.
A popular misconception is that LTL freight shipments are picked up at point A and then delivered directly to point B. In actuality, the average LTL freight shipment often goes through at least 6 moves on a forklift and is transported on at least 3 different trucks before arriving at its destination. Because LTL freight shares space in a trailer with other shippers' cargo, the route will always involve multiple stops and often requires extensive logistical coordination.
Here's an overview of how the LTL shipping process works:

1. Pickup - This first step of the delivery journey (as well as the last step), is often referred to as P&D (pickup and delivery). To make the most of the trailer's capacity, your shipment is picked up from your business by a locally-operated truck that is also picking up other nearby LTL shipments. After pick-up, your freight will be transported to a nearby terminal.
2. Drop-off at Central Hub - The truck transporting your shipment arrives at a central hub (often called break bulk), where your LTL shipment is unloaded from that truck, arranged, and prepared for the second leg of the journey. Break bulk is a major hub for the region that all or most terminals load into as a relay point, and is the location where the shipment first enters the freight system.
3. Transfer to Long Haul Truck - This portion of the journey is called line haul. From the central hub, your shipment is moved onto a long-haul truck, which shares its trailer with other LTL shipments. A long-haul truck is designed for hauling freight and has a gross vehicle weight rating of more than 11,788 kg. Most of the time, this truck drives to another terminal, and not the final destination.
4. Freight Terminal Arrival and Departure - As mentioned above, the LTL freight rarely travels straight from the break bulk to its end point. The goods are usually first dropped off at a freight terminal. A freight terminal is a connecting facility where carriers transfer shipments and rearrange trucks, in order to route them in the appropriate direction. Once your freight has been loaded onto the correct long-haul truck, it continues onto its destination.
5. Drop-off at Destination Terminal - Once the long-haul truck arrives at the destination terminal, your freight is once again removed by forklift and is prepared for loading into the correct locally-operated delivery truck.
6. Loaded into Delivery Truck - At the delivery terminal, the truck that your shipment is loaded onto is assigned according to the needs of your individual freight. Cargo that needs a liftgate or is being delivered to limited access locations will be placed on delivery trucks that support those needs.
7. Delivery - After a relatively short journey in the delivery truck, your LTL cargo has finally arrived at its destination!
Understanding the LTL shipping process can help manage transit time expectations for both shippers and customers. Shipping that may take only 2 days for Full Truckload freight may take twice as long for LTL cargo. Though the transit time is often longer for LTL freight, shippers save money and often enjoy more flexibility with LTL shipping. Because of the extended transit times, it's extremely important to find the ideal carrier, locate the most optimized, economic routes, and efficiently track your shipment.
Highly rated digital shipping platforms, like MyCarrier, can help with all of the above, allowing shippers to quote, route, manage, and evaluate the entire LTL shipping experience in one intuitive multi-carrier sponsored platform. This makes arranging and keeping track of the LTL shipping process quick, easy, and cost effective.
The longer transit times, along with more stops and increased handling can put freight at increased risk for loss or damage, which is why Cargo insurance is essential for LTL shipments. With MyCarrier, shippers can easily quote and purchase cost-effective, full-value insurance while booking a shipment. Shippers can rest easy knowing that their cargo is completely covered in the event of loss or damage.
With as complex as the typical LTL journey can be, it's essential to fully understand the process in order to make the best shipping choices for your company. It's also crucial to be aware of comprehensive, easy-to-use tools like MyCarrier that can put you in control of your LTL shipments, save you money, and add valuable hours back to your day.
Do you have questions about the LTL shipping process or the MyCarrier platform? Fill out the form below and we'll get back to you shortly!