Volume at the Port of Los Angeles - the busiest U.S. gateway for trade with Asia - is up 30.3% so far this calendar year. The record number of cargo ships waiting to unload on the west coast is just one example of a severely tangled supply chain. With the tight capacity that's resulted from these disruptions, it's more important than ever for shippers to manage their freight as efficiently as possible.
Temporary COVID-19 closures of ports and factories in Asia, severe weather, increased spending on goods, and shortages of both products and shipping containers have all contributed to the supply chain disruption. With these unresolved snags, shippers are realizing that the struggle with decreased carrier real estate and increased costs won't end anytime soon.
It's predicted that holiday consumer demand will cause even further difficulties in the supply chain in the upcoming weeks. Fortunately, there are three big ways shippers can alleviate the burden that comes with an extremely tight capacity market.
1.Create Better Visibility Using an API
At its most basic level, supply chain visibility refers to tracking the movement of products once they're shipped as well as any "stopping points" on the way to final delivery. Now more than ever, complex networks and an ever-changing market mean that live visibility is paramount. Without an element of comprehensive visibility, shippers will struggle.
With the announcement of many carriers dropping shippers, times are tough when it comes to delivering freight intact and on time. Carriers are choosing to turn shippers away who can't provide the necessary data to plan their network and improve service levels. It's more important than ever that shippers offer this essential information to their carriers via Application Program Interface (API).
Leveraging APIs for rating, dispatching, and tracking is one way to stand out as a shipper. Using an API allows shippers to instantly pass shipment-relevant information over to their local dispatcher (terminal or service center), giving carriers complete information on where to pick up the freight, how much freight there is, and where it's going.
When carriers get essential information earlier, they can build more direct loads. With direct loads freight gets handled less, which means the chance for damage or delay is reduced. The stark difference between old school processes and using an API, is that the latter creates less handling, better fuel efficiency and an earlier delivery time. It's no wonder that an increasing number of shippers are choosing API-enhanced visibility.
2. Adopt Ultra Efficient Day-to-Day Shipping Processes
In a tight capacity market, efficient operations can be the difference between succeeding and going under. While many shippers are adopting technology that improves day-to-day operations, some are still using outdated manual processes.
A surprising number of shippers are still visiting multiple carrier websites to rate and route their shipments, using several manifest reports to track and trace, and dealing with the headache of physical paperwork - despite there being more efficient options available.
Fortunately, there's a way to decrease time-wasting tasks and move toward a frictionless shipping process. The last few years have brought technology that relieves typical shipping pressures and pain points by digitizing the experience between the shipper and the carrier.
With the API technology mentioned above, shippers can now connect to all their carriers on one platform and enjoy automated track and trace, rating, document retrieval, and more. By simply taking a few minutes to set up a direct connection with their carriers, shippers can benefit from seamless end-to-end automated shipping. With access to this technology, processes that used to take hours, now take only minutes.
3. Lean Into Shipping Automation
A key to surviving the current tight capacity market involves finding ways to reduce costs. Many traditional shipping processes create inefficiencies that lead to wasted time and money. For example, the shipping industry still relies heavily on physical paperwork, which can cause costly errors, reduce productivity, and decrease sustainability.
Fortunately, shipping automation technology provides a solution for these pain points by digitizing essential documents, include Bill of Lading (BOL). Shippers, who are frustrated by the costs and wasted time associated with lost or incorrect BOLs, are adopting electronic Bill of Lading (eBOL) technology.
EBOL creates a parcel-like experience, where the only paper needed is a label. There are several ways that this decreases costs and improves efficiencies, including:
Reducing stop times and improved route planning
Enhancing billing accuracy
Increasing scalability through standardized BOL fields, data points, and processes
Improving productivity through decreased manual and error prone processes
Creating greater sustainability and safety through paperless and contactless operations
With the rising cost of shipping, it's more important than ever that shippers implement eBOL technology. Having realized the benefits of this tech early on, MyCarrier is the only platform that not only fully utilizes eBOL, but also helps both shippers and carriers adopt this technology. In 2021, over 70% of shipments through the MyCarrier platform have used eBOL.
EBOL adoption has been shown to drive down costs for shippers, carriers, and the supply chain as a whole. In fact, the Digital LTL Council (DLC) predicts that digitalization could save the shipping industry $1.2 billion a year.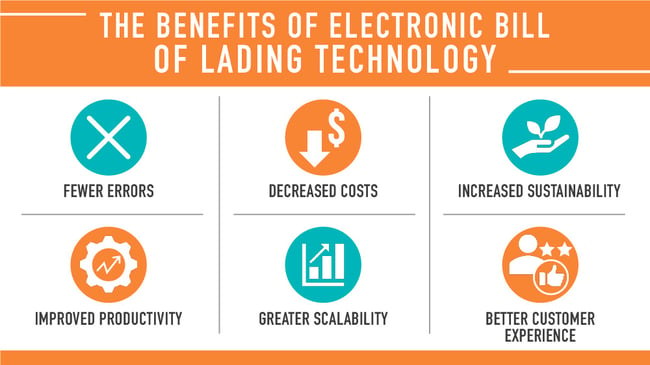 As the busy season quickly approaches, it will be essential for shippers to adapt for success. Having increased visibility via API, adopting efficient day-to-day processes, and leaning into automation will be crucial to having freight delivered cost-effectively, intact, and on-time.
Extra Insight
As a leading shipping management platform, MyCarrier helps shippers transition to a seamless, automated shipping process. In today's tight capacity market, having access to this technology provides resilience and enables shippers to rise above the competition.
Click below to watch a quick MyCarrier demo.