What Determines The rates You'll Pay For LTL Shipping?
For businesses just starting out in LTL (Less Than Truckload) shipping, the breakdown in pricing can often seem unclear. Because there are so many factors that determine the cost of sending a shipment, many shippers find themselves perplexed about individual charges within a quote. It's also not uncommon to struggle with accurately projecting future shipping costs.

Though more complex than traditional Full Truckload (FTL), determining your LTL shipping expenses does not have to be a mystery. We've put together a guide that breaks down 9 key cost components and how they're calculated. With an understanding of common charges, you'll be an LTL pricing expert in no time!
1. Absolute Minimum Charge (Minimums)
LTL carriers start with offering what is called an absolute minimum charge (AMC). Simply put, this is the lowest price a carrier will offer a customer. This means no matter how little freight you move or how deep your discount is, your cost to ship will be at least the AMC.

2. Dimensions
In LTL shipping, pricing is heavily based on the space a product occupies on a truck. After all, LTL involves shipments that travel together and must be organized to fit accordingly. The more room your freight takes up in the truck, the higher the charge will be.

Carriers will also evaluate your shipment's transportation difficulty when considering its dimensions. Carriers take into consideration how easily your freight can be stacked or stored next to surrounding pallets. Goods that are atypical, unwieldy or don't fit well with neighboring shipments will cost more.
Freight shipments are loaded into trailers or ocean containers to maximize the usable space, so your measurements need to be as precise as possible.

In order to accurately prepare your goods for shipment, the exact length, width, and height must be provided to the carrier. You'll be charged an extra fee from the carrier if you've measured the dimensions incorrectly, so it's important to be as accurate as possible.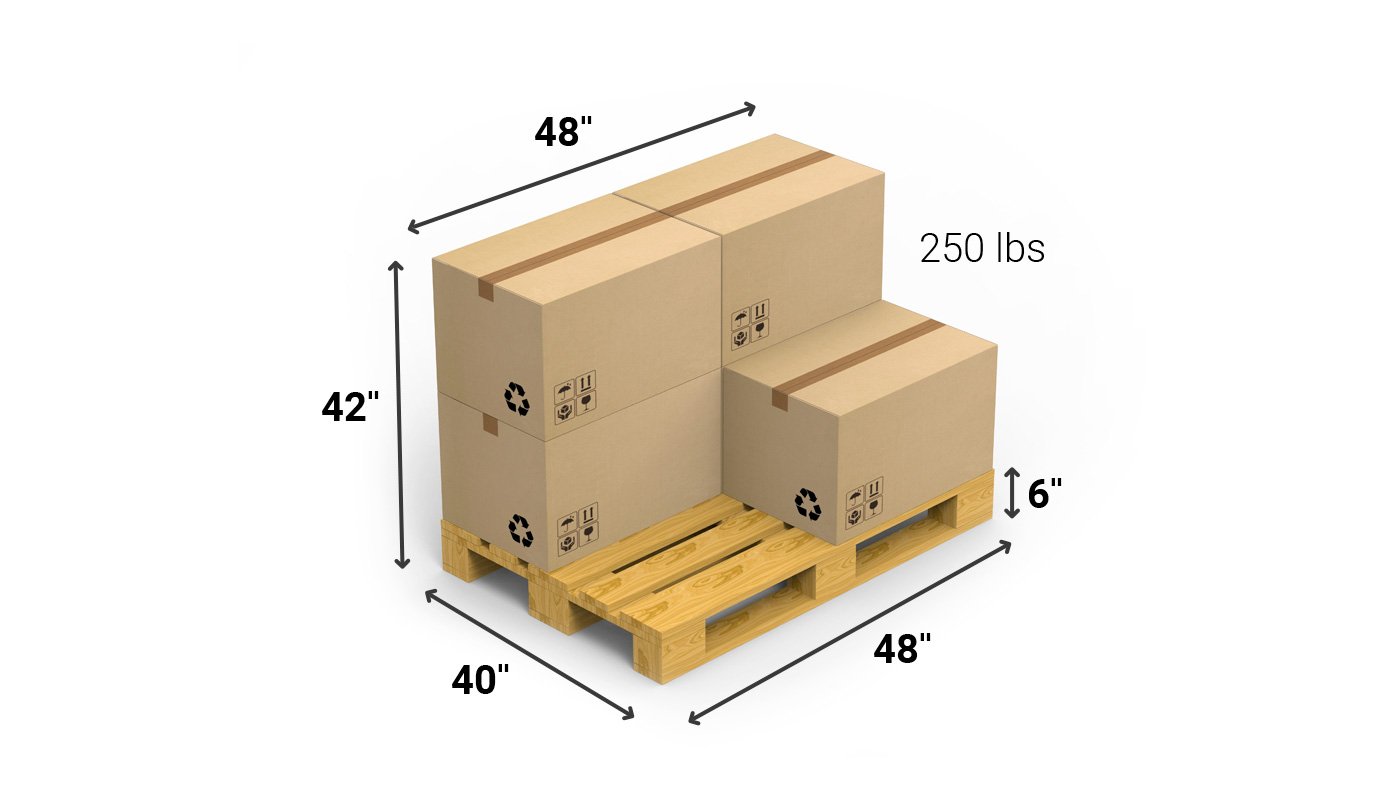 3. Weight
The LTL carrier pricing standard is structured to give shippers with heavier products a better rate per 100 pounds. This means that the more your shipment weighs, the less it will cost per 100 pounds. LTL freight shipments usually weigh between 150 and 20,000 pounds. And though you will get a better rate per 100 pounds, the heavier your shipment is, the more it will cost to ship.
4. Origin and Destination
The origin zip code and the destination zip code are used to determine the distance the shipment has to travel. Usually, the farther your shipment has to travel, the more you will pay due to driver and equipment expenses. However, LTL freight shipment rates also depend on the origin and destination of the freight.
Most LTL carriers have several terminals throughout a state. If a specific carrier's delivering terminal is located close to the shipment's consignee, these shipments tend to have lower rates.
Alternatively, some LTL carriers only service a specific area and therefore must transload their shipment to another carrier to reach the shipment's destination. This process is called "interlining," and often costs more and exposes shipments to a greater risk of damage or loss.
5. Lane
LTL carriers have an intricate network of routes that they use to ship goods. Every point of origin and succeeding destination are assigned as a unique lane. Each of those lanes has a designated rate for particular shipments. This price calculation for lanes includes the route's difficulty to travel, which is why some LTL shipments that cover less distance can cost a shipper more money.
6. Accessorials
Simply put, accessorials are additional services (outside the norm) that incur an extra cost. Some common services include:
Lift gate service
Required appointment
Limited access locations
Inside delivery
Residential pickup or delivery
Guaranteed or accelerated service
7. Freight Classification
The National Motor Freight Traffic Association classifies every commodity that can be shipped via LTL in the National Motor Freight Classification (NMFC) code list. The NMFC code list is a document that puts all products that can be hauled as freight into 18 different classes, numbered 50 to 500. The NMFTA takes density, stowability, handling, and liability into consideration to determine a commodity's "transportability."
A product's NMFC code number plays an important part in establishing a shipment's cost. Every carrier uses the NMFC to assign a specific rate structure to every shipment they transport.
8. Freight All Kinds (FAK)
Sometimes an LTL shipper has freight that is categorized in several different classes. In this situation, the shipper can negotiate a rate agreement with carriers known as a Freight All Kinds class exemption. FAK permits the vendor to ship goods under one class, despite having a variety of goods that are usually reserved for multiple freight classes.
For example, if a shipper has an order with palletized product ranging from class 85 to 300, they may be able to negotiate a class somewhere in the middle, like class 175. This can save money and cut down on time spent filling out paperwork.
9. Discounts
LTL carriers will often offer a percentage off base rates to increase potential business and attract loyal shippers. This allows carriers to be competitive in their rates.
With MyCarrier, shippers can easily take advantage of discounts with the Live Quotes feature. Shippers can easily connect with their carriers, enter their shipment details, and witness up-to-date quote information for every carrier on a single, secure webpage. With access to multiple live quotes all in one place, LTL shippers can be sure they're getting the best price possible – every time by visiting mycarrier.io and signing up for free!