HOW TO SYNC ALL DEPARTMENTS FOR EASIER LTL Freight SHIPPING
Find out how all departments involved in the shipping process can collaborate for easy, headache-free shipping.
There are a lot of cogs in an LTL shipping process that need to fit together well for things to run smoothly. With all the required coordination and documents that need to be created and shared between departments, it's easy for mistakes to happen that throw off the whole process. Easy-to-use technology makes shipping simpler and less stressful for all departments involved in shipping. On top of this, it makes creating and sharing records between your shipping, customer service, and accounting departments faster and more efficient.

Technology allows shipping managers, along with their accounting and customer service teams, to easily access all shipment info in one spot. Here are some other ways each department can benefit: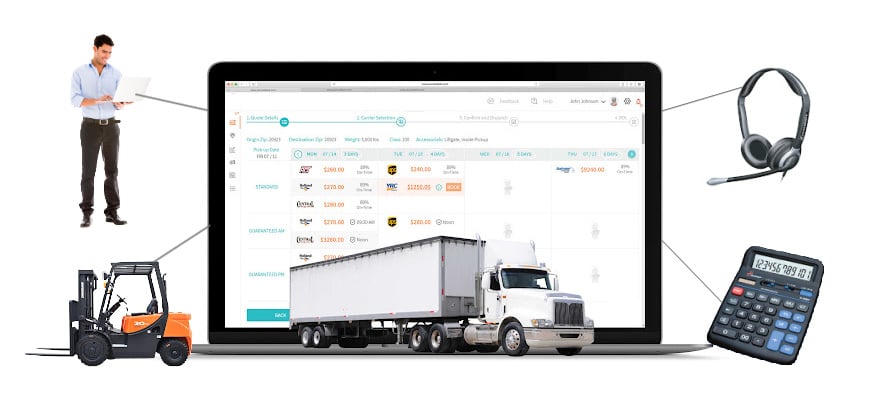 1. Shipping Department
Though all departments can benefit from connected technology, the shipping department likely benefits the most. API-based technology connects shippers directly to their carriers, so they can quote, book, and track their shipments all in one place. This turns a tedious process that often takes hours into one that takes minutes.
Another way the shipping department benefits? BOLs, labels, and other shipping docs are auto generated and can be shared with the click of a button – preventing errors and ensuring that all departments have access to important shipment information.
2. Accounting Department
When shipping through a powerful TMS, a payables record is digitally shared by the carrier, providing the accounting department with access to the invoice for the shipment tendered that day. The entire department can log into one platform and get visibility to costing, PODs, invoice, and see whether it was audited against the quote.
A TMS also provides visibility into your invoice inaccuracies and how often you're charged for W&I or accessorials – allowing for needed adjustments. This reduces common errors and eliminates the need to run paperwork between departments - decreasing the stress and manual work for both the shipping and accounting departments.
3. Customer Service
Technology can be beneficial to anyone who plays offense on the customer side. With a powerful TMS, tracking emails can be sent out immediately, informing the customer that the order has been processed, when it's shipping, and who it's shipping with. This eliminates time-consuming communications from customers who are checking on order status and improves overall customer satisfaction.
Customer service also has access to a live tracking calendar that provides visibility into the status of all shipments, including exceptions or errors that happen in the field. With this enhanced level of visibility, the customer service department doesn't have to use multiple calendars or manifest reports to track shipments – or spend their day on the phone providing shipment updates to customers.
4. Executive Team
Leadership can also benefit from shipping technology. A full-featured TMS provides leadership with data such as CWT (cost per hundred weight), average transit time, market share, and more. This educates the executive team on whether freight as an expense of sales is going up or down, whether the expense is cutting into margins, and what action can be taken to optimize operations. The enhanced visibility into shipment and carrier performance is not only beneficial for leadership but is valuable for all other departments as well.
Insights
A TMS works both as a shipping management tool and a central repository for vital shipment info that all departments can easily access. This Easy-to-implement technology can improve collaboration between all departments, creating a fast, easy, cost-effective shipping process that eliminates the hassle and headache of freight management. Discover more about this technology here.