- Article -
Carriers Advancing Their LTL Technology in 2021
Discover how LTL shipping trends in 2020 can pave a better path for 2021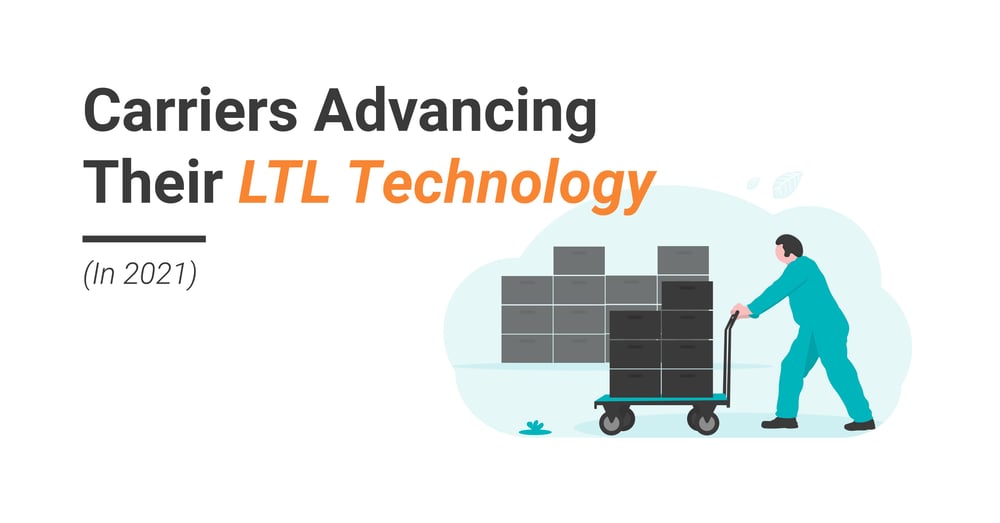 Written by Mike Whitmire and Bobby Russell
As we wrap up 2020, there is plenty of excitement overflowing into 2021 around Less-Than-Truckload (LTL) industry. For those of us who are considered crucial in the transportation industry, we've become extremely aware of contactless business and keeping terminals biologically clean. We understand the need to balance life as we know it with the restrictions of mask wearing in the office and elsewhere, like the docks. Many of our co-workers have already had the new virus and others have been impacted indirectly. With that said, we are all adapting extremely well, given the circumstances.
As we enter into the new year, it's vital that we adapt our technology to add greater value now, more than ever before. Industries such as restaurants/food and beverage are adapting quickly. For example, a large fast-food chain, who is known for contactless ordering and taking care of their employees, now have their workers collecting your drive through order from the comfort of their living room on an iPad as you go through their takeout line. They have also prioritized mobile orders with their own line. It really is astounding how well they have adapted to protect their employees while staying on top of demand.
The transportation industry needs to adapt quickly as well to meet the expectations of not only your employees, but also your customers. So, this begs the question, "How proactive are you being with your shipping technologies?" and, "Are your customers wanting something better?"
Yes, of course they are, but so are carriers for that matter. So how do we solve this problem and how would this actually benefit the shipper and the carrier? I am a big fan of reverse engineering problems and working backwards to create a solution, so let's take a look at common industry problems that all LTL carriers are dealing with or would like to solve especially as we continue to work through the post Covid-19 world.
I don't know of a single carrier that doesn't want to transition away from manual paper operations and adapt electronic digital-documentation and dispatch processes, but for some reason, the industry has been reluctant to draw a hard line in the sand that requires shippers to digitally transmit shipment data. Part of the problem is a lack of options: the customer either is forced to use the website of the carrier selected, or the customer is required to sign up and pay for a costly option to access all the carriers in a single interface. The latter is not really an option for the SMB market, so the onus moves to the shippers to independently figure out the best practice. often resulting in a process that's easier for the shipper but harder on the carrier.
The issue with only offering the singular carrier website, is that it requires the customer to visit an additional website and run a one-off rate. It's a misaligned expectation that most carriers have which is that shippers want to willingly quote every opportunity through a singular carrier website; however, this is just not reality. What is realistic and possible for shippers is the ability to shop multiple carriers simultaneously in order to make their buying decision.
MyCarrierTMS makes this carrier-direct market possible, helps solve many of the industry's common problems, and much more. When shippers dispatch via our platform, data is transmitted electronically, permitting the carrier to retain the shipment information instantly and proactively plan ahead. Once a shipper connects with their carriers via API, that connection creates an automated rate quote inclusion on every single opportunity the shipper enters. The realization is that the more opportunities you have, the more wins you will get. Shippers benefit too with more options for transport that highlight the value between price and service.
It's clear that getting all your shipping needs met from one website seems logical. The prime example would be seen in the rapid growth within the 3PL sector over the past 10+ years. So why don't more carriers offer a viable solution for customers who want more than just access to a handful of carrier websites?
For starters, technology is not a core competency of most asset-based carriers; these companies are great at moving freight, but they are not experts in the area of building and deploying freight technologies. What options do carriers have if they want to offer more to their customer base from a technology standpoint?
One option is for them to become a software company, which frankly isn't in their best interest or in many of their mission statements. Another option is to partner with a third-party software company, and offer the third-party software as a compliment to their own. A third option for carriers is to adopt a private-label third party transportation management software (TMS) as their own – a platform that allows them to focus on their core business of moving freight, while benefiting from the services and capabilities that a software company can provide as subject experts in the space.
Selecting the right transportation management system protects your employees, shippers, and vendors by supporting a work-anywhere solution that saves valuable time and allows you to focus on other areas of your business. Visit www.mycarriertms.com/landing today to find out why thousands of shippers and carriers are making the decision now to align themselves with such a technology solution.