- Article -
Carriers: 5 Steps to Better LTL Freight Shipping with Your Customers
Discover how to have better LTL Freight Shipping with Your Customers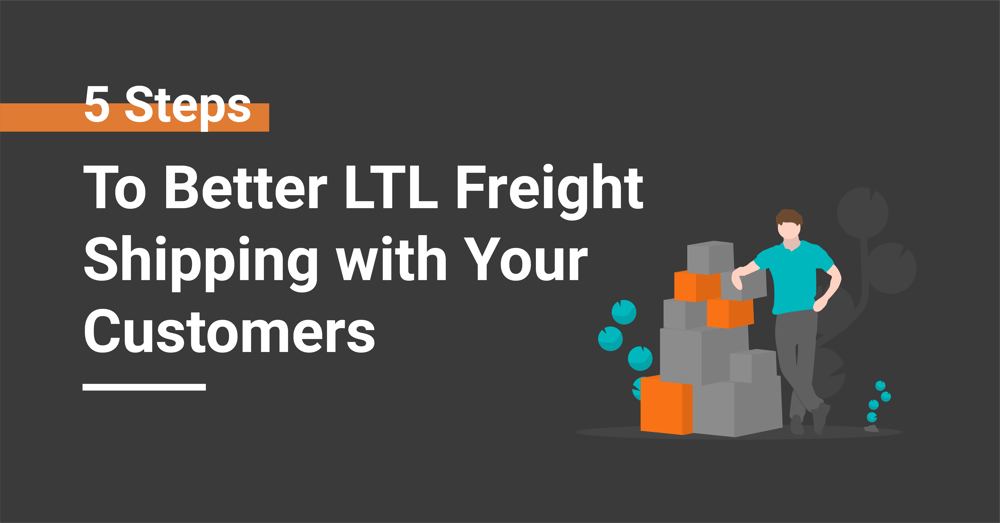 Written by Kyle Mlakar
As sales representatives within this industry, we all know the end result, the finish line, the place that we want to get to with our customers, which is to say that we want our customers to think of us first when they have a shipment opportunity. We want to be able to deliver comprehensive service for a perfectly successful shipment lifecycle. What an ideal state that would be. The fact is that we can get to that idyllic place, even in an industry that cannot guarantee there will not be any bumps in the road along the way.
To get to that place we have to go through the process of establishing strong relationships with our customers. In the incredible age of technology that we find ourselves in, direct and trusting relationships between customers and representatives remain the backbone for better LTL shipping outcomes. It's just a fact. So how do we begin that process of establishing those strong relationships?
There are five steps that you can take to arrive at that place with all of your customers to enable better LTL shipping outcomes. It starts with identifying who that target customer is, what defines that customer for you and your business, and validating why that customer is a target.
#1 - Identify Target Accounts
The biggest mistake we can make when taking this first step is to believe that this is a one size fits all scenario, that all customers are created equal. We must commit to the mindset that each individual customer has a different set of needs, wants, and desires. With that in mind, we begin to refine our scope to identify target accounts to engage with. This group can come from a multitude of sources:
Internal company initiatives - there has been a communication from your company's leadership team to approach customers that fit a set of criteria. These targets could include customers assigned to a specific blanket tariff, hit a certain market share percentage, or are based in a newly established market. Bottom line is that the target has been set for you and more than likely has a KPI tied to it for you to focus on.

80/20 Customers (i.e. your Top 25) - the old adage that 80% of your business comes from 20% of your customer pool is deadly accurate, but that doesn't mean that those relationships are in the idyllic state. Work can always be done to further develop those ties, increase levels of trust, and gain more market share. All resulting in better shipping outcomes.

Dormant accounts with little to no activity - these are accounts that could be on the brink of joining the aforementioned 80/20 group, you just need to ask the right questions and unlock their pain points. More on that in a moment.
Your targets are set. It's time to engage with these customers and take the position of a "clear and present" advocate for their best interests as it pertains to their LTL shipping operations and needs. You can achieve that by unlocking their pain points and gaining a clear understanding of their processes, so as to provide them with best in class service, fill in the gaps in their process and align your needs with the customer's.
#2 - Unlock Your Customer's Pain Points
For customers to work with you, they must know, like and trust you. To do that you must approach each customer as a fiduciary - a representative of their best interests and not your own. By placing your customer's needs at the center of the discussion, you take the critical first step in that process of gaining their trust. When you place the customer in the center of the discussion, you reveal your true intentions which are to understand their unique set of needs, wants, and desires. Those needs, wants, and desires are nearly always directly tied to current pain points that the customer feels in their day to day tasks and responsibilities. Step 2 sets your thinking toward unlocking those pain points through open-ended questions that foster a dialogue between you and your customer.
Start by unpacking their day to day - their processes - for handling and managing LTL shipments. Ask questions such as:
How do you retrieve rates and pricing for your shipments?

Once you have selected the carrier and rate for your shipment, what is the process for dispatching the load to that carrier of choice?

Now that the carrier has been dispatched, what level of visibility do you have into tracking and tracking your shipment to the final destination?

Finally, once the shipment has been delivered, what are the steps necessary to properly and accurately invoice?
Right there, you have figured out the "DIRT" on your customer! You have ascertained critical details on how they dispatch, invoice, rate and track their freight. Now, it's time for you to focus on the gaps and areas of improvement within their processes for you to turn into opportunities to provide value and service.
#3 - Evolve the Conversation
It's time for you to elevate your conversation with your customers by this step. This is where you align the needs, wants, and desires of your customer with the value proposition that you provide. Think critically about how the noted pain points can be tied to reasonable and realistic solutions. Now, this process will take time and experience, so if you are a new representative to the industry, this is a key point to leverage the expertise and knowledge of your colleagues and managers. Remember it is always better to acknowledge what you do not know and work to find the answer than to shoot from the hip and make a mistake in the eyes of the customer.
Evolving the conversation toward the next step of setting realistic expectations, allows for the discussion to become an actionable exercise. Both sides have an understanding of what each other is seeking, what each party looks to gain, and a relative sense of the path forward.
#4 - Set Realistic Expectations to Close
Stepping out to define and set expectations reaffirms your position as a fiduciary to your customer. Expectations must be clear, concrete and in line with the "dots" connected in the previous step. Best to set realistic goals and objectives, even if they are smaller in scale in order to ensure that you can achieve them in a short period of time. Plenty of deals have been lost at this very stage, as we can allow our eyes to become too big. We are quick to say that "yes, we can" without even a thought of "is this really possible?" There is that old expression of "don't over promise and under deliver", which comes from those who have bitten off far more than they can chew.
Remember the goal here is to get to an idyllic relationship with your customer, one of trust, understanding and likeness for one another. A mutually beneficial relationship where each of you wants to see the other succeed through the actions you make in concert with each other. Do not put yourself in a position where you cannot succeed, because the second that you do, you are no longer acting as your customer's fiduciary. You have reduced yourself to simply a functioning vendor. Building trust takes time, it takes many swings of the bat, and it takes fervent belief in the previous steps driving you toward the finish line.
#5 - Follow Up with Intention
The final step is often the one that is most taken for granted and the least executed upon. Many may think that once this conversation is over or this series of steps is complete, they are done. Couldn't be more wrong. The deal is closed, the customer is happy and you have your marching orders on how to execute. So what else is there? What else is of any value to this process to create the outcome for which we set out to achieve?
It is your job to follow up on the expectations set, building off of the conversations, resolving the pain points that you worked so hard to uncover and understand. Be intentional and create the momentum necessary to propel the relationship to that idyllic place we conceptualized from the beginning. Work to further everything that you have embraced.
Creating better shipping outcomes with your customers starts with having these types of open, direct, and conscientious conversations. You follow these 5 steps and the freight will take care of itself in matters of speaking. The x's and o's of blocking and tackling the shipments from point A to point B will fall into place. The freight will pick up and deliver as set forth. All of this though is only possible through identifying your target audience, engaging them in a dialogue that places them at the center, demonstrating your value and guiding the customer to understanding, and then setting expectations for which you and your customer follow through on.