- Article -
EBOL Provides Value-Based Visibility for Shippers and Carriers
In a world that runs on automation and efficient digital operations, today's global logistics and supply chain is falling behind. Much of the industry still relies on outdated paper-based processes, including creating and sharing critical documents.
These manual procedures contribute to frequent shipping errors, negatively impact the environment, and cost time and money for shippers and carriers alike. It's been recently estimated that digitalization will likely save organizations up to 2% of freight under management (FUM), saving the industry up to $1.2 billion.
With so many industries transitioning to fully digital processes, customers expect, even demand, complete digitalization. The airline industry provides an excellent example of the benefits gained by moving away from outdated manual processes. Digitalization allows customers to purchase their tickets, check-in, board, and track their luggage through a paperless, automated process. While consumers now consider this common place with airline technology, connected transportation technologies such as eBOL are only now catching up.

Surprisingly, the less-than-truckload (LTL) industry continues to handle more than 85% of all shipments with paper-based processes on both the shipper and the carrier side. These manual procedures present the LTL industry stakeholders with a major obstacle in improving performance and decreasing cost.

Led by the Digital LTL Council (DLC), the less-than-truckload sector has supported the digitalization journey by investing in collaboration and technology. The council, which was formed in 2019, has made a concerted effort to organize the LTL industry and accelerate the advancement towards full paperless trade.
The DLC, in partnership with MyCarrier, is committed to defining, standardizing, and championing digital LTL practices, and has worked tirelessly to establish guidelines that will strengthen the industry.

The first specific objective of the DLC has been to set an electronic Bill of Lading (eBOL) standard, which they recently announced. A Bill of Lading is a document that gives a carrier the right to transport the goods of another to ensure payment and receipt. This crucial document has been used for international trade for over a century and has remained relatively unchanged for decades.
A Bill of Lading is also essential for sharing the official details of the shipment including, but not limited to, the origin and destination addresses, payer identification, and shipment contents. Paper-based communication of this information requires a manual process to enter the data into carriers' systems.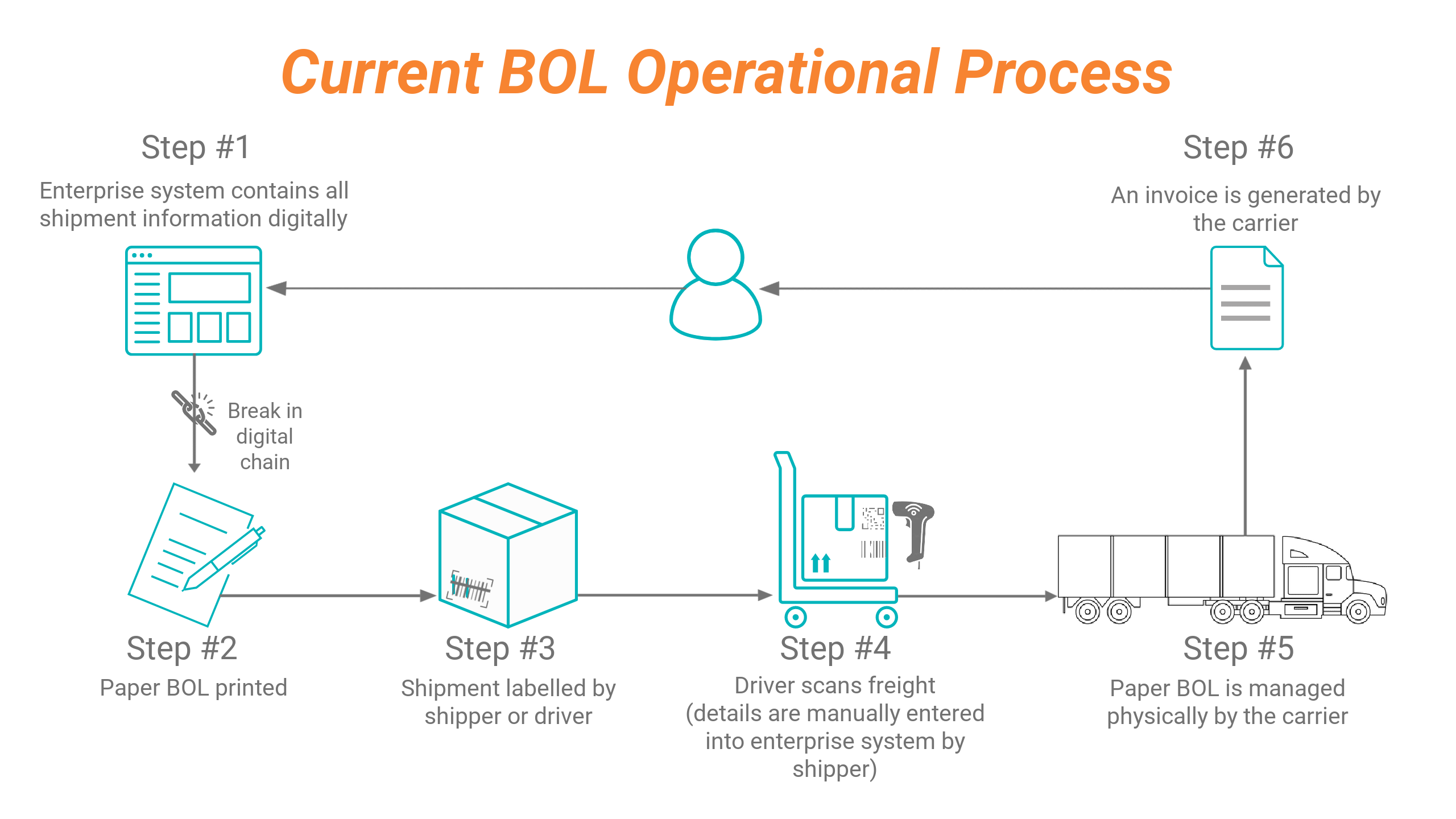 The electronic Bill of Lading standard creates a parcel-like experience, in which the only paper needed is a label. The eBOL supports digitization of shipping and billing processes for all LTL industry participants, enabling process automation and eliminating a common source of error and rework.
Digitalization of these LTL processes and systems is another step towards full, digital integration of the LTL industry into broader, multi-modal digitalization initiatives.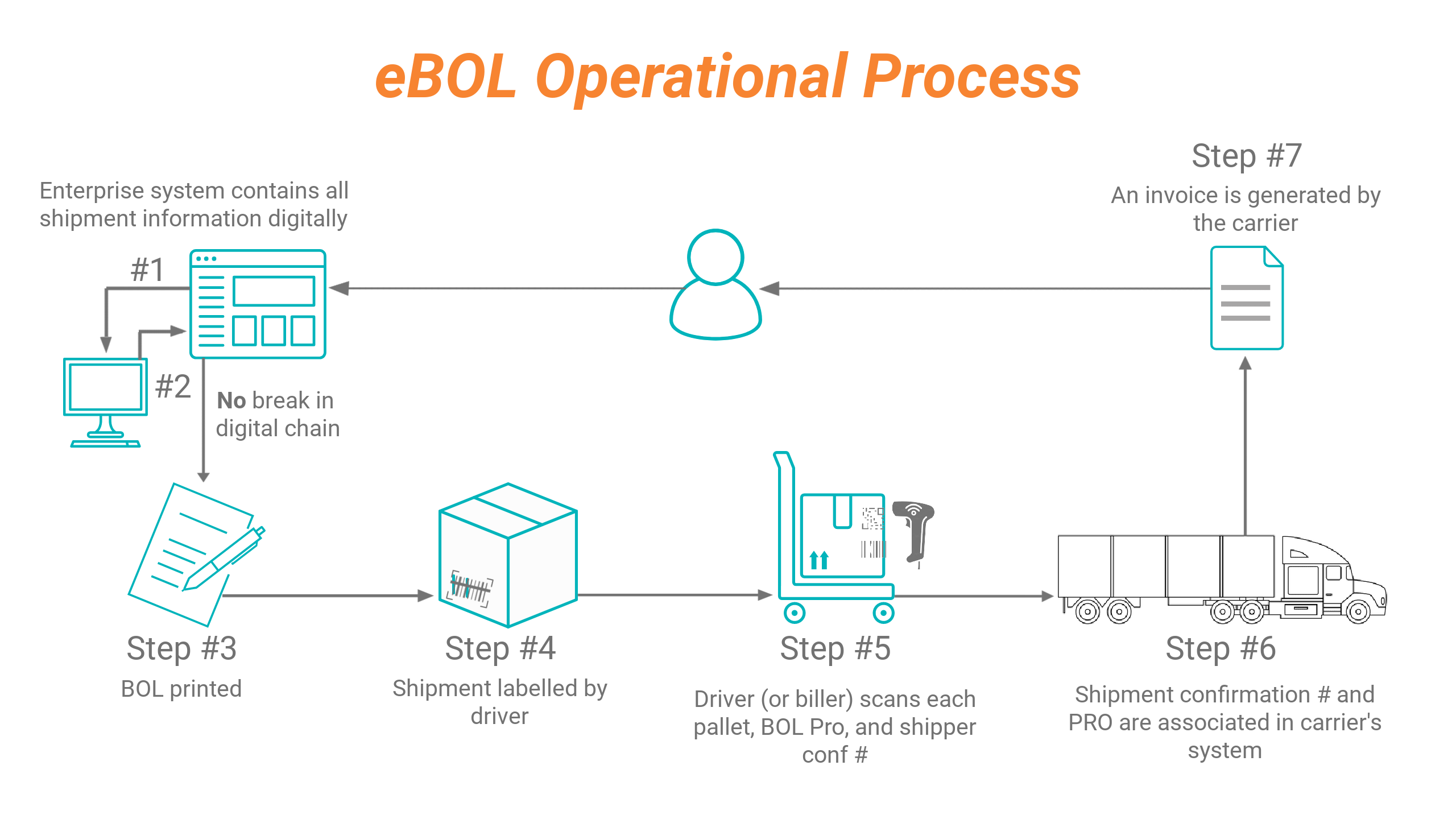 The eBOL API is meant to accomplish the following functions and create the following results:
Utilizes submitted BOL data to initiate tracking – improving the customer experience

Reduces stop times and improve planning – increasing performance

Improves billing accuracy and time spent on billing processes – decreasing cost

Standardizes BOL fields, data points, and processes – enabling scalability

Reduces manual and error prone processes – improving productivity

Enables contactless and paperless operations – supporting a healthy environment and sustainability initiatives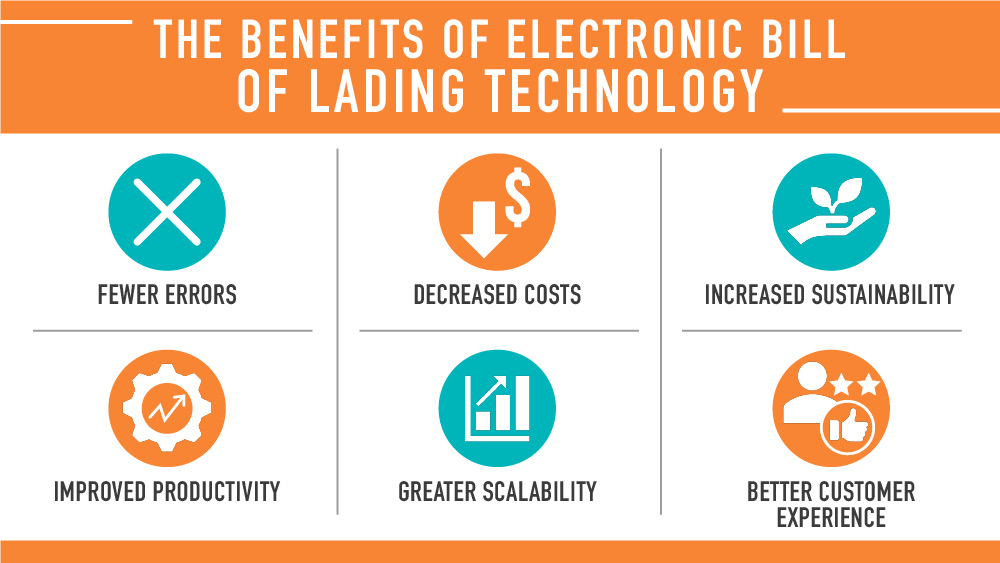 MyCarrier is spearheading efforts to digitalize the LTL shipping industry. Platform shippers and carriers have experienced the benefits of transitioning to paperless processes, which include saving money, cutting down on costly mistakes, and automating time-consuming procedures - while reducing environmental impact.
In fact, MyCarrier is the only shipping management platform that fully utilizes eBOL technology. On top of this, MyCarrier been effectively training carriers to drive eBOL implementation with its user base.
Carriers are seeing instant adoption by a significant number of customers, which translates to immediate operational improvements. MyCarrier processed 700,000 shipments using eBOL in the first three quarters of 2021, up from 500,000 shipments in all of 2020. Recent numbers show that over 70% of on-platform shipments are now utilizing eBOL technology.
MyCarrier also offers expertise to the carriers' technical teams when they have questions about proper implementation of eBOL. Because of the pitfalls some partners have encountered during adoption efforts, the company is able to help carriers correctly employ eBOL technology and avoid unnecessary setbacks.
As a technology leader in the transportation industry, MyCarrier will continue to support the adoption of innovative digitization that adds ease, efficiency, and accuracy to the shipping process.