- Article -
Shipping Management Platforms

:

A

Necessity to Thrive in Today's Supply Chain Reality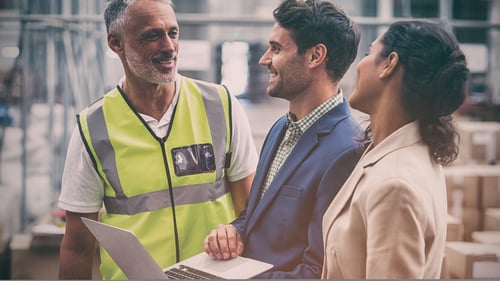 The supply chain challenges we are all hearing about today likely bear little resemblance to those we envisioned at the beginning of 2020. The COVID-19 pandemic caused chaos across every local, national, and global supply chain, from product shortages to facility closures and beyond. Yet, looking deeper into various aspects of the supply chain, most industry experts are not shocked, having predicted the issues independent of COVID.
For all the effort that many enterprise companies devote to improving the performance of their supply chains, relatively few have unlocked the full potential of digital technologies. A recent McKinsey study  found that the average supply chain has a digitization level of 43%, the lowest of the five business areas examined. A mere 2% of surveyed executives said the supply chain is the focus of their digital strategies. Worse yet, small and midsize business (SMB) organizations have done very little to digitize their supply chain needs, with digitalization levels in the single digits. Are their priorities misplaced? Perhaps. 
The blame cannot be placed solely on business owners or executives, however. For example, much of the disparity between potential and actual gains from shipping management digitization can be explained by prior technology gaps, such as the lack of industry APIs, standards, and digital interchanges. Now that better digital solutions have become available, such as MyCarrierTMS, project 44, Uber Freight, Flock Freight, Convoy and others, companies can significantly improve shipping and supply-chain performance.
"Today's global and national supply chain require API connectivity and instrumentation services that provide information on a shipment's lifecycle from the time a shipper receives a quote from a carrier until it receives an invoice after delivery", says Jett McCandless, Project44's CEO.
The pandemic's disruptive impact on global supply chains only accelerated and heightened the need for organizations to focus on risk mitigation due to longstanding shipping concerns. Today, more than ever, organizations must invest in technologies that will enable them to:
Keep shipping costs down

Keep up with customer/industry demands

Source consistent, reliable carrier capacity

Ensure on-time pickup and delivery performance

Always have the proper inventory in the right places
Controlling shipping costs is an age-old issue in the transportation industry, and it has been an even bigger worry in recent years. In addition to rising rates and accessorial charges, limited capacity, and outright embargoes on freight from multiple LTL carriers, shippers will find LTL doors closed to them unless they take substantial steps to make their business worth more to their carriers, steps many US logistics managers have never had to take in their careers.  Additionally, freight visibility is a must. US logistics managers require shipment visibility to support just-in-time inventory models. As shippers have deepened interest in the safe and secure transit of goods to meet critical on-time delivery KPIs by their customers, freight visibility has become essential.
On the other hand, as mentioned in a recent JOC.com article, "JOC Rankings: Higher rates lead to unprecedented US LTL revenue gains", US less-than-truckload (LTL) carriers saw record-setting LTL revenue growth in 2021. In fact, 15 of the top 25 LTL carriers increased their revenue by more than 20% last year, outperforming both the group and sector-wide averages, with five companies increasing their revenue by more than 30%. 
To combat the rising costs and limited capacity, shippers will have to take the term "shipper of choice" to the next level, with measurable operational and transactional changes. SMB shippers must embrace and invest in the latest technology solutions, such as a Shipping and Order Management solutions, TMS's, ERP platforms from SAP, Oracle, and Microsoft, and associated integrations. No other options will provide the business risk mitigation shippers require, especially following the last year and a half when every company worldwide had to "go digital" in ways they couldn't have predicted.
The good news is that small to mid-sized organizations can easily overcome previously stated technology challenges—lack of budget, expertise in managing platforms, identifying a clear ROI, and system integration and administration—through SaaS-based applications. Many SaaS-based shipping management solutions are now available for a low monthly fee that provide holistic platforms with plug and play integrations to accounting, business, and warehouse solutions.
The time to invest is now. A SaaS-based shipping management solution is an essential tool for today's shippers. For more information and assistance, check out the top-rated shipping management solutions on G2.com.