- Article -
Interview with
Chris Scheid
MyCarrier Co-founder, President & COO provides insights into LTL Shipping Logistics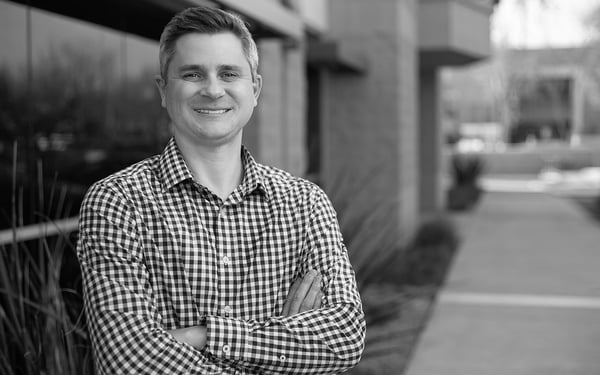 Chris Scheid, co-founder, President & COO of MyCarrier, knows a thing or two about growing and adapting during unexpected conditions. His initial plan after graduating from college was to work in commercial real estate, but the market crashed and set him on a different path. However, through networking, Chris connected with GlobalTranz (a full-service transportation and logistics provider) and saw an immediate market opportunity.
GlobalTranz peaked his interest because the company was still growing steadily during the recession. Over the years, Chris saw the company grow from 70 employees to over 600, and revenue increased by over 700%. Even with the exponential growth, he left the company and set out to change the transportation industry for good.
why build mycarrier?
Coming from the broker's side of the industry, we saw a need in the market for small to mid-market shippers. There wasn't the ability to access a TMS (Transportation Management System) without going through a broker. When going through a broker, shippers see a markup and can no longer own the relationship with carriers. There were a lot of things that I felt that were negatives on that side of the business.
We also saw a lot of redundancy in the model. For example; the carrier invoices the broker, and the broker can potentially refuse the invoice, provide a markup, re-invoice and so on. The same situation can take place with a claim or anything with a dispute. This adds an inconvenient layer of phone tag in the transaction.
We saw the potential in devising a solution for the customer that allows them to utilize a self-serve, easy on-boarding TMS that they can set up themselves in just a few minutes. Then, they're able to ship directly with all of their carriers instantly.
So, our solution was to come up with a carrier-neutral platform that our partners could utilize for their customers. In turn, it would also benefit the partners operations by reducing an OR (Operating Ratio) and help their sales reps offer a technology to customers that can positively impact their everyday lives. By doing all that, we were able to stay fair and neutral. That's how we came up with MyCarrier. We knew it was a valuable solution and we started to develop it.
How is MyCarrier Disrupting the Logistics Market?
By providing this first opportunity for small to mid-market shippers to access a cloud native application built for them that allows them to connect directly with their carriers. Prior to MyCarrier, if a customer wanted to do that, they needed considerable resources, consultants, and an implementation team to put in a large TMS.
From a high-level perspective, MyCarrier is disrupting the market with its ability to democratize access to a TMS. We are eliminating the broker, giving the carrier direct access to the shipper, and creating greater visibility. Our real-time API allows carriers and shippers to work in-sync along every step of the shipping process.
What Makes MyCarrier Unique, Better, or Different?
Simplicity. All of the endless hours we have spent on creating simplicity and workflows to allow users to save time and streamline their process, makes everything extremely intuitive. After onboarding, our goal is for customers (i.e. shippers) to see how easy it is to integrate their business in minutes.
_______________________________
Have a question for Chris or do you want to learn more about MyCarrier? Contact us!