- Article -
Maintain Visibility During the Winter Storm
The Benefits of Using Automated Shipping Alerts to Proactively Communicate with Customers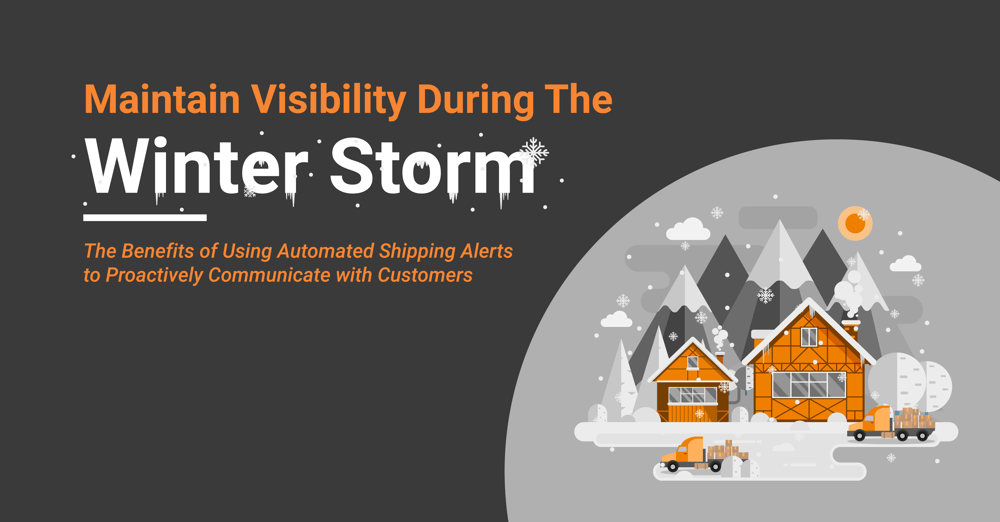 Written by Mike Whitmire
The country including many of the southern states got slammed from a winter storm impacting logistics this week. Many states saw record lows impacting transportation operations, power, and delays in trucking as many had to wait-it-out or to reroute completely.
Mother nature did it again.
With 3 million people in Texas without electricity, technology systems including redundant servers for many major software companies are in scramble mode. Likewise, Covid vaccinations have been impacted from refrigeration failure setting back many that have waited weeks to become vaccinated.
What more could have been done to better prepare?
Catastrophic fail over systems including generator backups is a good place to start. If you are a company that relies on power, you need to brush off your operational plans to see if you have a Business Continuity Plan in place. Many, small to medium sized organizations lack this plan altogether, while larger, enterprise businesses were not prepared with such a large part of their workforce still working remote.
Using automated shipping alert technology, allows businesses to be notified in real-time when shipments are delayed during a storm like the one that occurred this week. It's important to use technology that has Advanced Learning or Automated Alerts as a core feature to work for you during unplanned circumstances. Carriers' will reroute the shipment but it's the communication component that keeps happy customers.
For those shipping LTL freight, there is a glimmer of hope. MyCarrier, a complimentary LTL shipping platform for small to medium sized businesses, offers real-time Shipping Alerts that indicates when a shipment is impacted during an epic storm like the one that occurred this week. Shipping Alerts allow for real-time tracking to communicate the status of the LTL freight to help reset expectations with customers.
Shippers may not have a Business Continuity Plan but at least they have a complimentary tool that gives them the flexibility needed to help avoid catastrophic events. For businesses, having a tool that communicates in real-time is a game changer.
Want to learn more? Contact us today.