- Article -
The Top Carriers: Which LTL Freight Companies Are Right for You?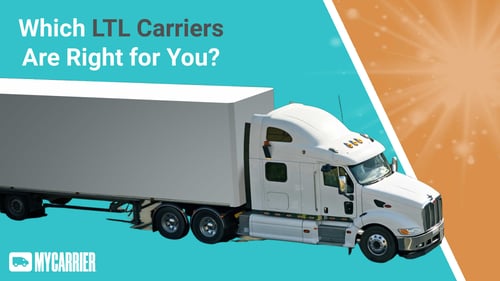 When shippers find themselves shipping freight that's too large for parcel, but too small to fill an entire truckload, it's time to transition to less than truckload (LTL). LTL freight companies combine several shipments to create a single truckload comprised of cargo from multiple shippers. With the rise in ecommerce and the need to deliver smaller shipments to diverse destinations, demand for LTL shipping is on the rise.
The Advantages of LTL Shipping:
Transportation spend is minimized by paying for only a portion of the truck space
Access to national and regional carrier networks that can lead to more competitive prices
Easy tracking and tracing due to advanced LTL tracking systems
More eco-friendly due to increased ability to optimize routes
Additional services as needed, such as lift gate and inside delivery and/or pickup.
What Should You Look for in a Less than Truckload Provider?
It's extremely important to work with reliable, efficient freight companies. Though the right carrier for the job is highly dependent on the type of freight being shipped and the individual services required, we recommend choosing providers who have/offer the following:
API Integration Capabilities
An API integration is the connection between two or more applications, that lets those systems exchange data. With an API integration, shippers can easily share essential shipment information back and forth with their carriers. Since carriers prefer customers who can provide them with early, accurate information, this connection can give them "shipper of choice" status and help to secure competitive rates and capacity. Being seen as a digitally connected shipper is especially critical in the current tight capacity market.
An API connection also enables shippers to quote, dispatch, track, and analyze all their freight in one powerful transportation management system. The automation provided within a full-featured TMS saves shippers time and money by eliminating time-consuming, error-prone tasks and driving efficiency with actionable shipping data.
High Percentage of On-time Delivery (OTD) Percentage
There will always be unexpected factors, like bad weather or accidents, though these are fortunately a rarity. Some fairly common situations that cause variance in OTD include:
High-volume Corridors: Shippers obtain better on-time delivery performance in economic and freight corridors with predictable, smooth demand.
Shipment Weight: LTL shipments weighing roughly 1,000 pounds see the best LTL performance. Shipments above 5,000 pounds experience more variance in ODT performance.
Special Requirements: Liftgate, hazmat, and other shipments with special requirements tend to cause a variance in ODT.
Despite the above factors, a reliable LTL carrier should have an OTD rate of around 98% and should have the practices in place to allow them to keep this percentage high.
A full-featured TMS that provides reporting and data analytics can deliver in-depth carrier performance reports. This data allows shippers to keep tabs on their carriers' average transit time, cost per hundred weight, market share, average weight, and more. With this information, shippers can determine their LTL provider OTD rates and determine how well their carriers are performing overall.
Percentage of Claim-free Deliveries
As mentioned before, there are some unexpected factors that can't be helped when it comes to moving freight. This is why full value cargo insurance is a must for shippers, especially LTL shippers since their cargo is touched far more often than FTL freight. Even so, a reliable LTL carrier will take the necessary precautions needed to ensure that route is direct as possible, equipment is functioning well and that all employees are well trained in proper shipment protection procedures.
The Top LTL Carriers:
We recommend the following LTL freight providers based on their API integration capabilities, high percentage of on-time deliveries, and high percentage of claim-free deliveries:
Insights
No matter the LTL carrier you decide to use, MyCarrierTMS can help you become a "shipper of choice" by establishing a direct digital connection with your freight provider. On top of being able to quote, dispatch, track and analyze your shipments on one easy-to-use platform, this connection allows you to share early, accurate information with your carriers. Click the button below to get started.